IQ Student Accommodation is a leading provider of purpose-built student rooms in the UK with over 60 locations and over 23,500 beds, and I had the opportunity on working with them as a product designer at Catch. 
iQ and Catch embarked in 2018 upon a partnership to deliver a full-scale digital transformation across the business, reimagining everything from their content and brand positioning to their website platform, booking journey and app. The key challenge was to make iQ stand out in the competitive private student accommodation sector, increasing leads and improving the conversion rate.
I started working on this project in 2019, with two challenges : 
➔ To rethink and redesign the whole booking journey experience for a student signing in and choosing a room
➔ To work on the creation of an app, helping students managing their room, contracts, payments...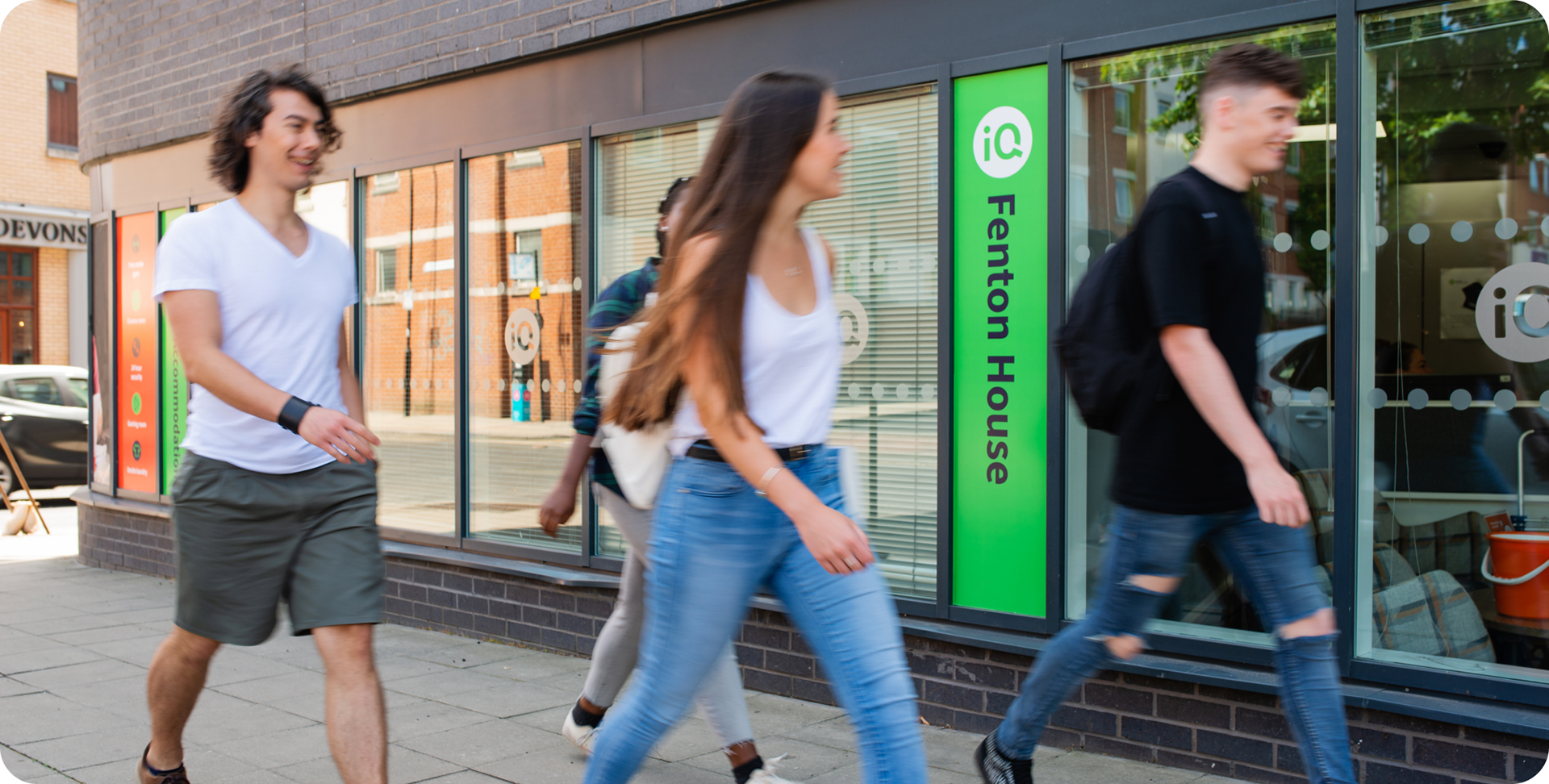 Before starting designing anything, I began by taking in all the business stakeholder and customer research, data and findings from on-site workshops with students previously done by Catch to comprehend better the whole iQ experience and user journey for its audience. This was the bedrock on which all future decisions will be based on, as well as additional testing later on for both the booking journey and app.
The next step was to actually map out the User Experience, from the very first contact with iQ's website, all the way to the management of the app once moving in to the room. This allowed to highlight necessary features, friction points and helped determine the easiest and smoothest journey possible. The purpose was to always have this journey in mind, to make sure everything that is designed afterwards would be a part of the experience and closely linked with the rest.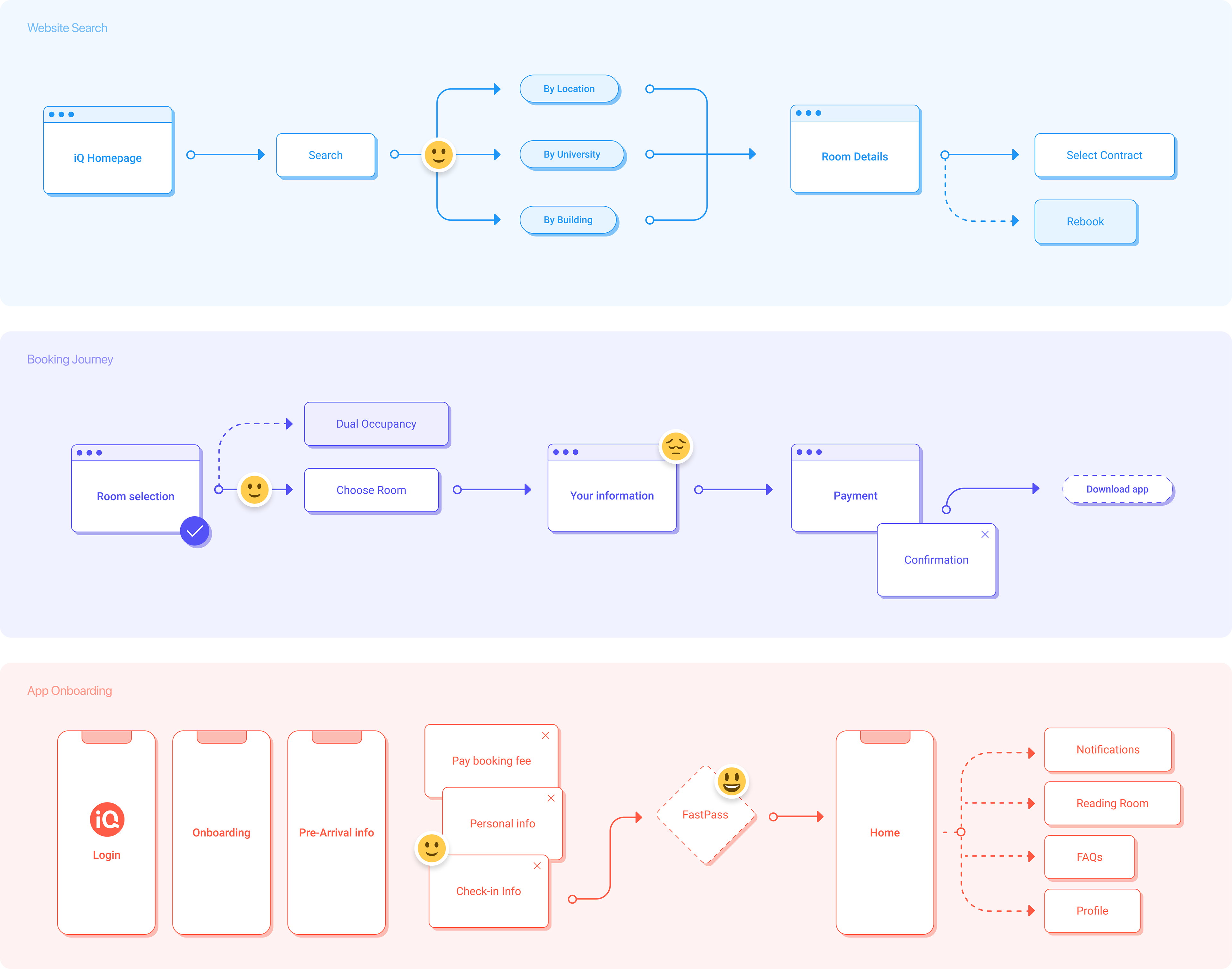 Defining those UX maps and the experience we wanted to user to go through served as a foundation to start working on sets of wireframes and early prototypes, both for the booking journey on the website and for the resident app. 
Working closely in daily stand-ups at Catch with product managers, the design team and software engineers early on, as well as regular catch-ups with people from iQ allowed us to make sure all those redesigned features and experience would fit seamlessly within the platform created prior to that by Catch.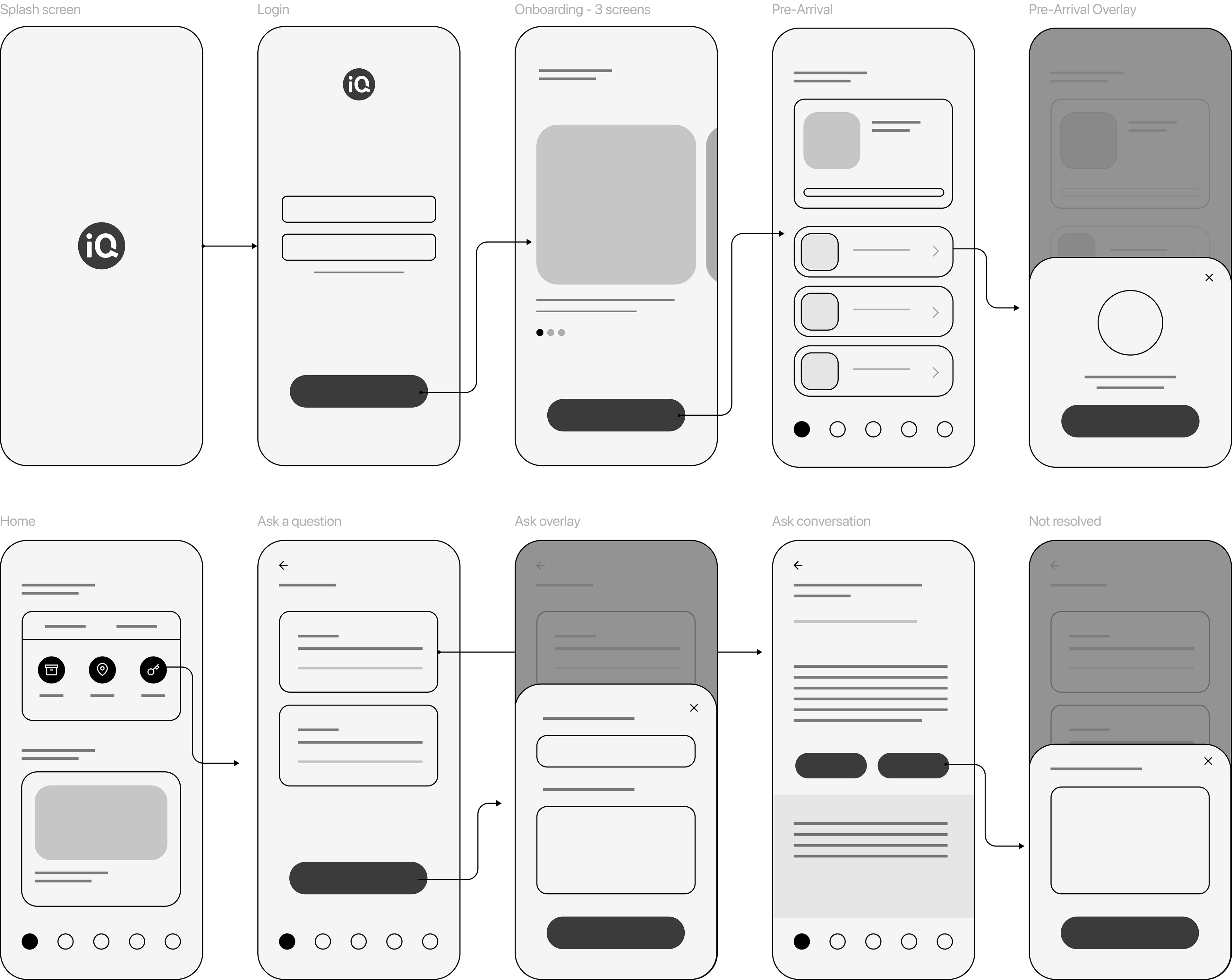 In parallel with the sets of wireframes, I started working on the User Interfaces production, starting with the website booking journey. Working on a daily basis with engineers, we implemented several key features to make the journey as smooth as possible, providing students with every tool they would need while choosing their room :
➔ An overview of the room with photos, a 360° 3D tour, informations

➔ An easy contract selection

➔ The possibility of booking several rooms with friends

➔ Interactive floorplans to allow users to explore and select the exact block, floor and room they want to live in

➔ Easy information and payments pages

➔ An introduction to the app once the booking is completed, with a fastpass to easily move into the building and room.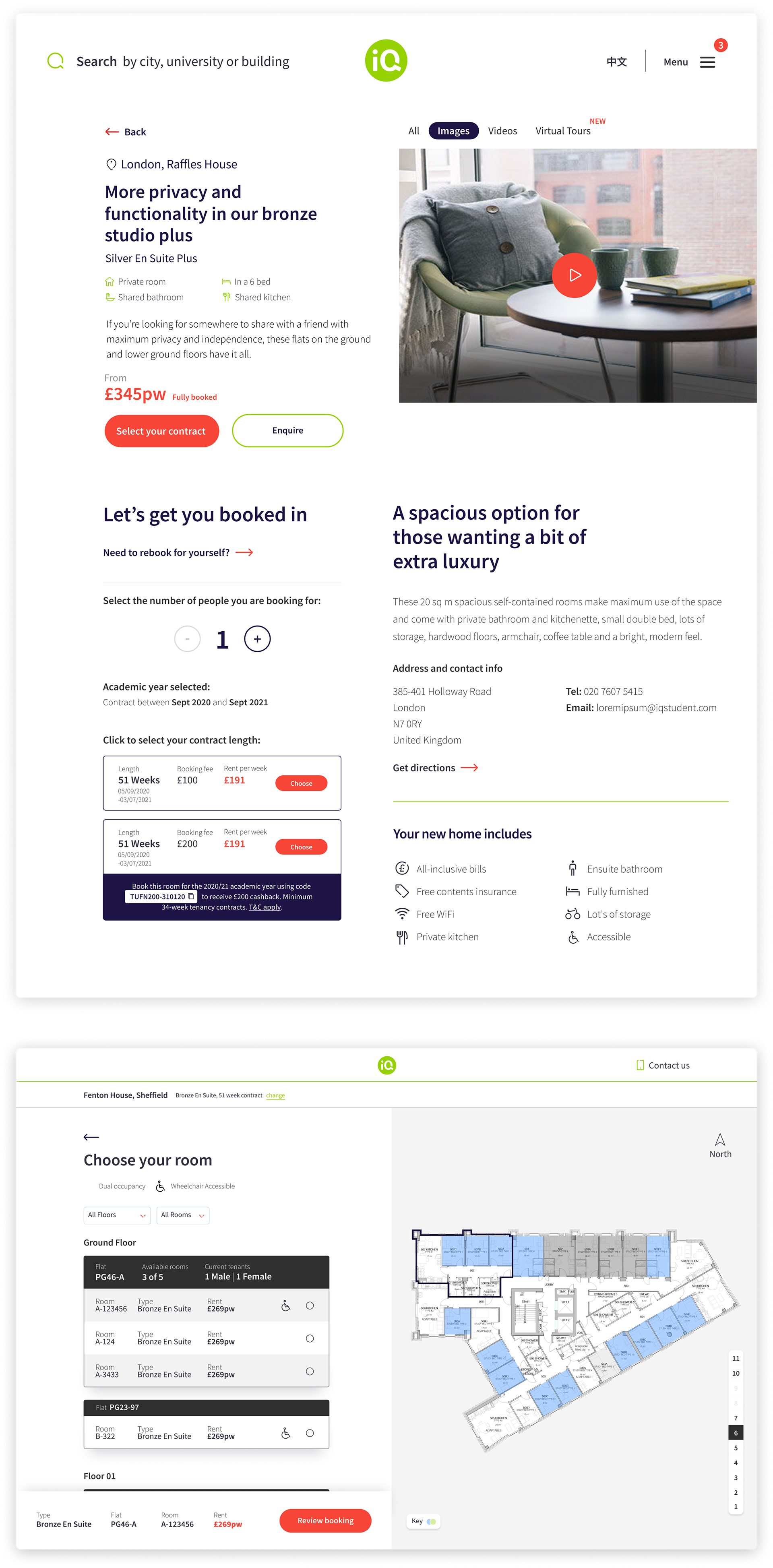 Building these new pages and features meant we needed to expand and push further the existing design system, testing with front-end and QA engineers and validating new components as a team to ensure a seamless blend with the rest of the website.
We worked on building these new components to be fully responsive and versatile enough for every case where we needed them. This also came in as the agency moved from Sketch to Figma, and I took this as an opportunity to re-organise and re-build parts of the existing atoms and components, to make sure we had a consistent, easy to use and up to date medium of communication between designers and engineers at Catch.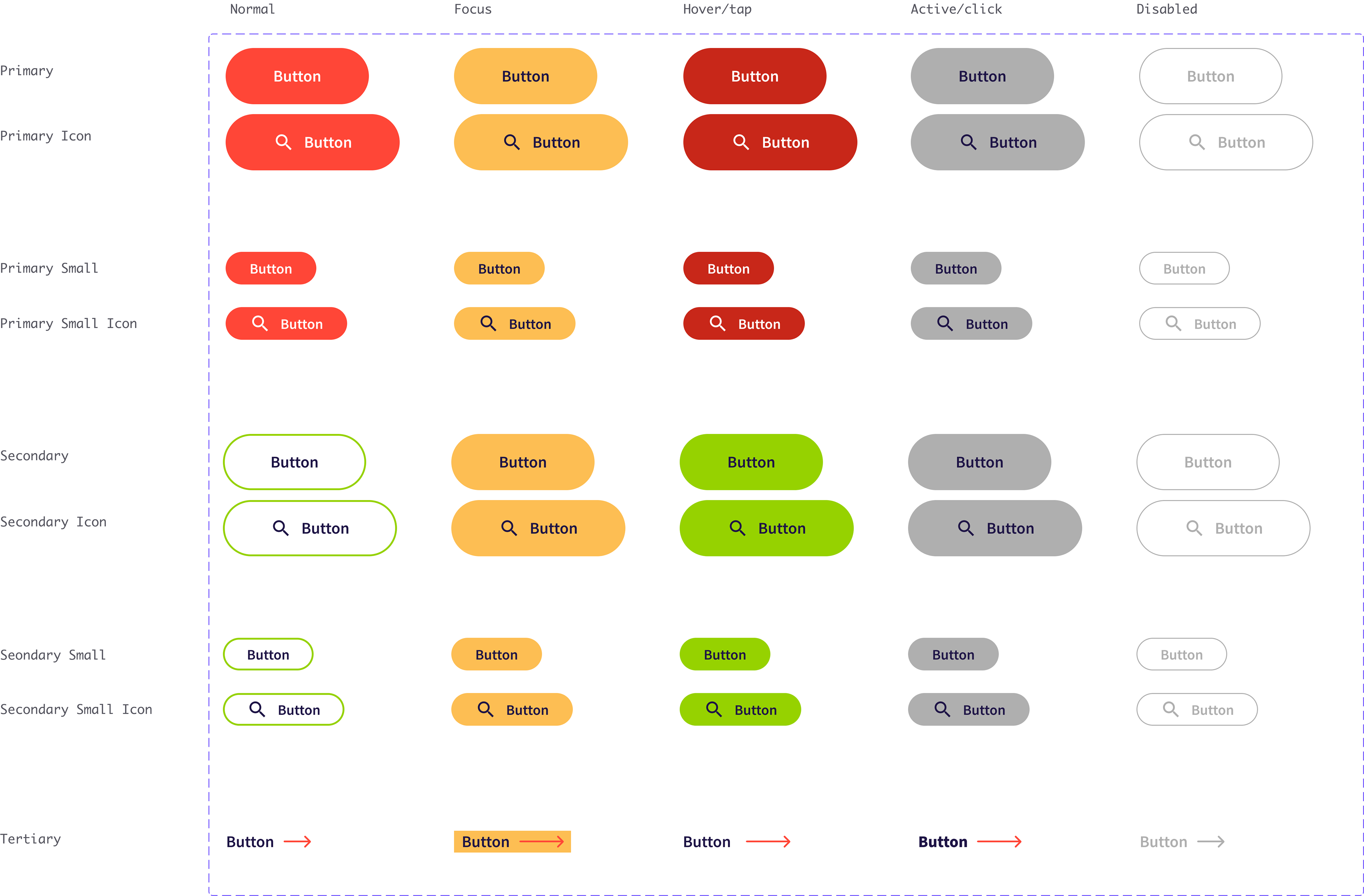 The second part (but not the smallest) of the UI production was the creation of all the screens for the application, as well as several workable prototypes. We worked on a variation of our website design system and started creating those interfaces, driven by our early consultation with students and testing them throughout the process.
The aim of the app was for residents to manage their contracts, rental payments, room services and much more, with key features such as:
➔ New user onboarding tips and tools
➔ Management of rent allows the user to have clear sight of their previously made payments as well as upcoming payments or overdue rent 
➔ Post alerts and tracking of parcels 
➔ Logging maintenance requests and tracking cases 
➔ News and events specific to a user's building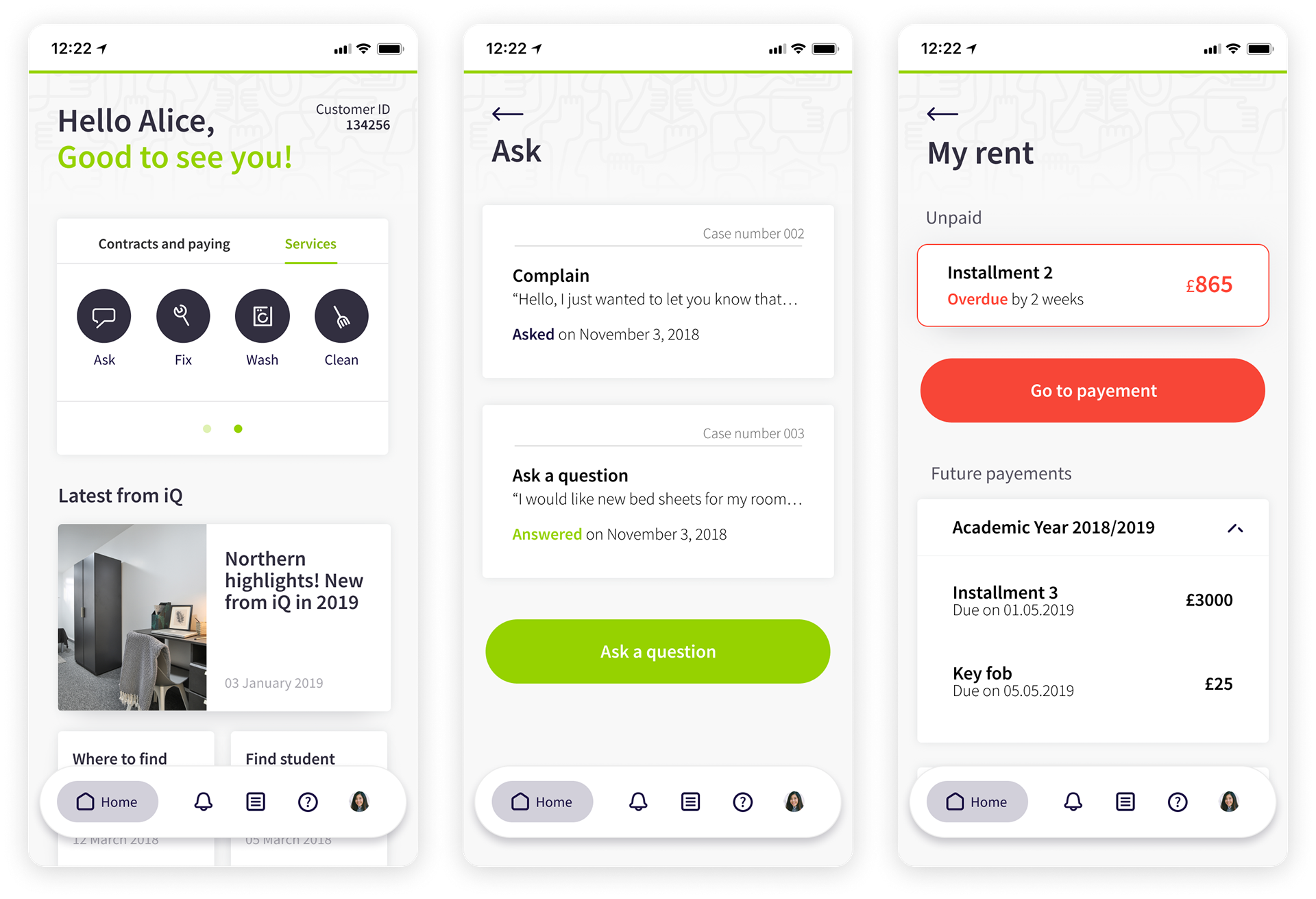 Try out the App prototype 
👇
(See on desktop for a better experience)

While working on the User Interfaces for the application, I also had the opportunity to spend some time on micro-interactions, to communicate meaningful feedback by adding personality and bringing life to interactions through motion design, and overall lead to a better experience.
I mainly worked on the app navigation and interactions with icons, using Lottie and working alongside engineers to bring those animations to life. I was involved during the whole process, from creating the assets to overviewing their implementation into the final app. 
Catch currently continues to work with IQ on many updates and an exciting roadmap, packed full of innovative features.
I'm very happy to be involved in this large-scale project, which allowed me to work closely with a very wide range of people, from clients and users to other product designers, product managers and engineers.